Accommodation in Paris (Guide for Foreigners)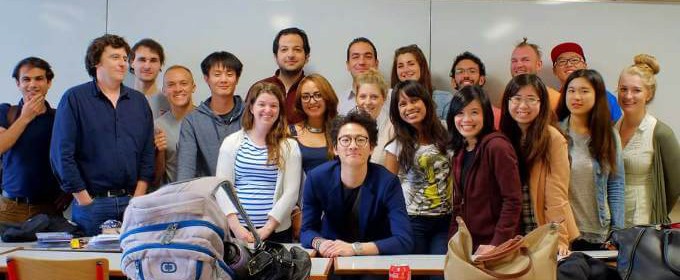 Table of Content
*Click on the link to jump
1. Who am I?
2. Things to Know
3. Things Not to Do
4. Things to Do
a) Hostels
b) Airbnb
c) Couchsurfing
---
Finding a Long Term Accommodation in Paris is Not Easy
You should read this page if:-

You are a foreigner going to Paris for the first time to study or work.
You are still trying to find a long term accommodation.
You have not arrived in Paris yet.
Paris is a remarkable city where the demand for accommodation is higher than the supply and the landlords know it. This article may help you increase your chance of getting a long term accommodation in Paris and also give you insight to why the landlords do not reply back to emails.
---
Who am I?
I stayed in a city, Nantes in France from January to May 2014 studying the French language at Université de Nantes. In June, I went over to Paris hoping to find some work to do there.
It means that I was once like you, a foreigner trying desperately to find accommodation in Paris a few months in advance and worrying that I could not find a place to stay when I arrived. No one replied to me back despite sending many emails and SMS to different advertisers even when I had a French number.
In a previous post – Accommodation in Paris (Introduction), I mentioned that I am helping my ex-landlord to find potential tenants for her apartments/rooms whenever someone terminates the rental contract. I had plenty of opportunities to communicate with different prospects both in emails and in person. This time, I am screening potential tenant profiles standing in the position of a landlord.
My experience in Paris was unique transpiring in two polar. From the position of being a tenant to the task of finding the tenants, I could visualise that some people would not find a place to stay easily from the things they said and did, online and offline.
My judgement was further validated when these people responded to my second advertisement online (an entirely new unit and location) not knowing that I was the same person whom they had communicated with before. They still had not found a place to stay after so many weeks of searching.
Although the accommodation is not so easy to find for many people, it is still possible to find it quickly if you pay attention to some of the following things below.  Always be conscientious about the things you say and do.
Remember first impression counts. 
You only have one chance to 

make it

 or 

break it

.
---
THINGS TO KNOW
1. In Paris, the demand for long-term rental exceeds supply especially when the rental charge is low. I cannot stress enough of it. It is not tough for the landlords to find tenants as during peak period before the school term starts, their mailbox will be flooded with people desperately trying to find accommodation when they have not even arrived in Paris.
2. The landlords are not going to confirm the reservation over emails without any downpayment because the prospects may back out last minute if they find a better housing choice. Downpayment is the only form of proof to show that the tenant has serious intention to rent the unit and will stop looking around.
3. The landlords would prefer to meet up with potential tenants who are already staying in Paris after 1 or 2 emails/calls and can do the negotiation and payment right away. If you make known in the email that you are not yet staying in Paris, chances are many would not bother replying to you back if they have other real prospects on hand.
4. Your financial stability is a priority concern. They want to know whether your source of income is independent, from your parents, any guarantors in France, whether you work full-time, part-time or just a student with no other job. The landlords want to ensure that the tenant doesn't default payment and is fully capable of paying the rent on time.
5. The landlords want to judge the character, suitability and chemistry if they are going to stay with the person long time or when it is "en colocation" (house-sharing) with others. For this reason, they cannot commit to a person whom they have never seen before. Knowing a person's attributes is a critical decision for staying together for a long time.
6. Discreet preferences over some particular group of people. Indeed, a very sensitive subject that most people would not talk about or admit openly, but the elimination of the prospects is very real. Some landlords may have disappointing experiences with some people and thus, would not consider the prospects that fall into that category.
Another example, a particular gender may be more preferred over the other gender due to privacy and security issues. They also try and anticipate whether the new tenant can get along well with the rest of the roommates.
7. A case by case basis for APL/CAF. Some rentals are on "sous-location" (sublet/sublease) and is technically not allowed in France. The advertiser is likely not the landlord but a tenant who sublets out some space in the house or the whole unit. The tenant may already have applied CAF for his/her benefit and consequently, will not be able to pass the subsidy to someone else.
Even if APL/CAF is possible, it does not imply that the landlord is willing to do APL/CAF for you if you are only staying for a short term of 2 to 3 months because a lot of administration work and long waiting time is involved.
It takes 2 to 4 weeks to process CAF application. Do note that CAF will not give subsidy to the first month of your stay. They will only calculate for a full month, starting from the second month onwards. You will receive your CAF housing allowance in your bank account on the third month of the application.
8. Both the landlord and the tenant have the right to terminate the rental before the contract period ends up by giving one month's notice to each other. During the final exit, downpayment (also known as "caution" in French) is returned in full amount if the tenants return the keys and the room is in good condition.
---
THINGS NOT TO DO
1. DO NOT start sending emails to all the advertisements too early (that is more than one month in advance) to ask the landlords whether the room will still be available 2 or 3 months down the road because no one can foresee or promise you that. Rental is on a first come, first served basis when the advertisement states that the room is available immediately.
2. DO NOT use one-sentence email without any other information in your first email. For instance, "When can I see the room?" Make the landlords do less work by not asking you questions that you should have provided in your first email. Otherwise, they may not reply you at all among the heap of email requests they have.
3. DO NOT expect landlords to make an overseas phone call to you if you are neither staying in France nor possess a French SIM card but you want them to call you back. Having a French phone number encourages landlords to reply you back faster.
Alternatively, ask for their contact number and call them on your end. It takes some time for most French people to reply back to emails or never so call them to get your answer if they leave their number inside the advertisement requesting interested tenants to call them.
---
THINGS TO DO
1. DO make an effort to read the advertisements COMPLETELY before asking questions that are already in the information. They are likely not going to repeat themselves and will not reply back knowing that you are not paying attention to the details carefully.
2. DO write a polite email by including brief details about yourself:-
Your age,
Your nationality,
Your gender (It is challenging to guess from some unusual names),
Your purpose of coming to Paris,
The intended length of stay.
3. DO reply to the advertisement closest to your ideal move-in date. If the room availability is on 1 April, you have to try and be able to move in on 1 April or closer to the available date. The landlord may be in the process of closing a deal with a few interested tenants. The person who can move into the house closer to the landlord preferred date is likely to get the deal assuming that the landlord has no preference for any tenant.
4. DO pay for a few more days of rental even if you cannot move in exactly on the stated date of the unit that you are very interested in but want to lock the agreement fast. This method is pretty effective as some landlords are not willing to let their rooms go without rental even for a few days. They may give the room to someone else who makes the offer to pay more or could move in on time.
Ask the landlord first whether you can pay the rent starting on the day that you move in before offering to pay for the extra days that you are not staying.
5. DO show that you have the financial ability to pay the deposit. Hesitation on your part may hint to the landlord that you have financial difficulty and may not be able to pay your rent promptly. It is a huge risk to every landlord and they will think twice to rent the room to you.
---
The Final Solution…
Search for accommodation only when you arrive in Paris or
Establish contacts 

a few days before your arrival 

with as many landlords/advertisers as possible.
Inform them about your arrival date.
Ask them whether the unit is still available.
Set up appointment dates with them so you can view as many units as you can within the shortest time.
Ask for their contact number.
---
Interim Period of Searching the Accommodation –

 Where to Stay?
Use Hostels, Airbnb and Couchsurfing temporarily when you arrive in Paris. Book for a few days so you have a place to stay while you search and visit apartments. Book a new room or extend your current stay if you still cannot find your long term accommodation.
a) Hostels  
Besides being free, staying in a youth hostel is the next cheapest accommodation in Paris you can find temporarily without burning your pockets from as low as € 15.00 per day. At the same time, you may meet like-minded people sharing valuable tips to find a room rental.
Book more days during the peak period especially in summer. If the number of days of your booking is not sufficient before you find long term accommodation, a lot of hotels, hostels and guesthouses would be fully booked by then. You will end up feeling desperate when you cannot find budget accommodation.
Book earlier to secure a low rate as low as € 15.00 as last-minute booking during peak periods is always more expensive.
If you prefer more privacy instead of sharing a dorm with a large group of people, opt for a private room or a lesser number of beds per dorm in a hostel.
The advantage of using a youth hostel as compared to Airbnb and Couchsurfing is the stability that it will not be subjected to a last-minute cancellation from whatever circumstances or excuses that the owner might come across.
*Photo Illustration from Hostelsclub.com based on a random check on 20 March 2015 showing € 15.00 being the lowest rate found in Paris.
---
b) Airbnb
For people who have not used Airbnb before, the website allows the house owners to rent out their rooms or the whole apartment/house temporarily. There is more privacy with Airbnb as compared to a hostel stay but the rate is more expensive starting from € 28.00 per day based on a random check in March 2015.
There is always a risk of last minute cancellation by the owner due to unforeseen circumstances since the agreement is between you and the owners. Always have a backup plan ready or a second Airbnb place to stay if that happens.
Some owners rent out their units for long term use which is much more expensive than the mainstream website for long term rental. Most of the monthly rental rate advertised in Airbnb use a formula that calculates it per day, for example, €28 x 30/31 days.
Such a calculation will undoubtedly inflate the monthly rental because Airbnb is not the correct channel for long term rental. The owners want to profit quickly on short term rental.
Some owners give a discount on the total amount if a tenant books for a month. Still, it is more costly than the standard market rate for long term room rental in Paris. Airbnb benefits travellers who require short-term booking as it targeted mainly for the tourism market.
If you decide to use Airbnb and do not have an account with it, you can use this Airbnb friend's referral link to sign up. The marvellous point about the referral programme is that both the referrer <me> and the person referred <(that is you :)> will get a € 22 discount which you can apply it immediately for your first booking.
If you sign up on your own, you will not get any discount for your first booking and have to pay the full booking amount as usual. So, do take advantage of the Airbnb link for your benefit immediately. Please ask me if you have any other questions.
---
c) Couchsurfing
As the name suggests, it started out with the idea of letting the couch to the travellers by staying with the locals while exploring the city and learning about the culture.
Most people reported satisfactory and meaningful experiences for meeting friends you haven't met yet from all over the world. Despite the positive feedback, one has to take precautions with regard to the safety and security of both the tenant and the landlord.
Couchsurfing is free. The hosts would welcome the guests to stay with them on an average of three days or over the weekends if the hosts are working on weekdays. Many hosts could not host a couch surfer for too many days with their daily routine going on. You have to find another host after the agreed length of stay.
Some hosts may extend their stay to couch surfers who are nice, easy-going and are willing to contribute something during the stay such as offering to cook a meal, wash dishes and buy some food. Some guests are known to be freeloaders so the experienced host will choose their guests carefully by reading the reviews left by other hosts on the requester's profile.
Since it is free, couch surfers have to abide by the rules and regulations set by some hosts. Some hosts do not give spare keys to their guests and would expect them to leave the house when they go to work and come back to the house when they are around.
Some hosts do not have any WiFi to share with you. They use and share the public WiFi with you. Sometimes the public WiFi signal has a weak connection and is constantly down. The cases exemplified restrict you from making good use of online search for your accommodation effectively.
If you move to Paris with big luggage and have to change host every few days, it is not convenient. Find a host who can arrange to let you stay for a few more days. Again, they can always shock you by asking you to leave for whatsoever reason and urgency.
It is better to have a backup plan as well and not be caught unaware in any situation by totally depending on one source.
---
Immediate Listing
Related Articles
---
Hope you find this article useful and improve your overall experience with a clearer understanding of the accommodation situation in Paris. If there are other information that I may help you with, kindly leave me a comment below. Thank you.